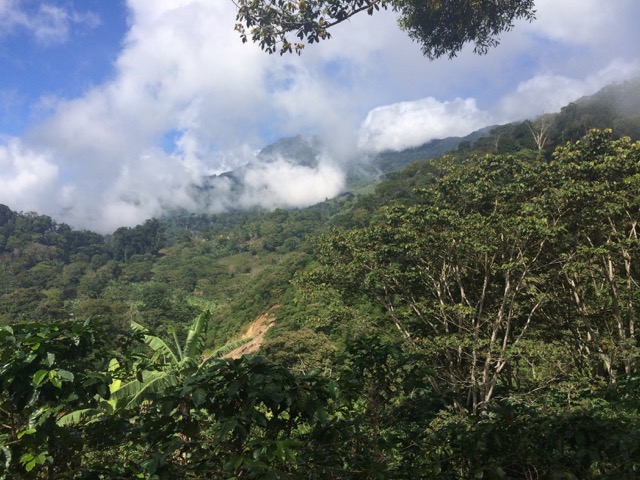 Over the next few months, we're going to showcase the delicious efforts of 8 producers from the region under the moniker "Santa Barbara Project". This is a chance for you to be part of something special, we're really excited by these coffees and producers. Your feedback and experiences with these coffees will help to shape whether or not we'll be actively seeking to work closer with the best performing producers – among a range of other measures.
Producers from the Santa Barbara region of Honduras have, over the last few years, featured heavily in the country's Cup of Excellence and of those producers 60% came from Benficio San Vincente. Since 2008, BSV supported coffees have produced five first place wins (the most of any other mill in the World), but more importantly have been instrumental in the support and nurturing of Santa Barbara producers. Agronomist Angel Arturo Paz and his family have been changing the face of Honduran coffee for nearly a decade, responsible for advising and supporting the group of small producers in three communities that surround its mill, in Peña Blanca, a town in northwestern Honduras. Part of that support to producers involves providing economic resources – to buy or maintain a farm, or plant coffee. It's a big deal because there isn't access to financing otherwise. Producers who don't have access to money sell their coffee to less involved buyers at a cheap price. Having the money to reinvest in the farm while supporting their families, is the key to improving both the quality of coffee and quality of life.
The villages Cielito, Cedral and Las Flores follow one after another along the mountain range in Santa Barbara. Grown on this hillside is mostly Pacas, a coffee species akin to Bourbon, as well as Yellow Catuaí and Pacamara. It is challenging to process coffee cherries in areas like these, which are close to the jungle and thus, to rain. The drying process, in particular, is especially demanding. But when these processes are precisely controlled, seemingly problematic factors (like drying under challenging conditions) are what make coffee from this area particularly interesting. The coffee produced here cups with flavour attributes not found anywhere else in Central America.
The coffee in this region is super interesting – lots of particular soil types, interesting varieties and  cool climate maturation of the cherries. Coffees from Santa Barbara seem to be distant cousins of Kenyan coffees in that there is a distinctive blackcurrant flavour and lovely ripe sweetness seen in both regions. They're also known for having winey, lush acidity with complex tropical and citrus fruit characters, floral aromatics and perfumed herbal aromas.
There exists an eagerness here; a willingness, motivation and ambition to produce the best coffee in the country. There are also large differences amongst the farmers and one of our purposes with the Santa Barbara Project is to identify the most ambitious of the farmers here; the ones we can develop a relationship with. In order to build relationships – that allow both parties to have a common understanding of quality coffee – there must be frequent and ongoing presence.
To produce coffee that tastes fruity is not very complicated, but to produce coffee that is clean, clear, fresh and fruity is another thing altogether. One of the biggest assumptions within specialty coffee is that coffees from high altitude areas naturally exhibit these characteristics, but high elevation can lead to potential problems, even in tropical climates.
Some of the lots are very small so you'll need to be on the ball to get them. An example is the coffee of Orlando Guzman – whose coffee we purchased in it's entirety. He's a new producer, and it's his first harvest. At 1691m, Orlando sits at one of the highest points in the region, and has 3 bags of 69kg from one entrega and 2 bags of another. Blink, and they'll be gone.
Over the last couple of years we've been developing a hankering for these special and rare coffees. Over the last 12 months we acted significantly to turn this desire into results, and – 3 visits later – we're ecstatic to be able to present to the good coffee folk of Australia some absolute gems.
The Producers are:
Sergio Enamourado / David Munoz / Dubis Moreno / Orlando Guzman
Extreberto Caceres / Edgardo Reyes / Pompilio Ramos / Santos Martinez